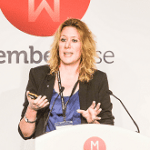 Author: Kerrie Fuller – Associate Director of Engagement at MemberWise
I'm obsessed with member segmentation. It's fair to say that I can't stop thinking about it – how can we fit our members into categories that are actually meaningful for us as membership organisations but also for members? Gone are the days when we segment based on demographics – today we are far more likely to segment on more sophisticated factors such as lifestyle choices or purchase likes and dislikes.
I'm not new to the MemberWIse Network; I have been attending (and more recently speaking or chairing) for years but as of August 2018, I started working full time with Rich to increase value and activity to you, the membership professional, at the heart of this incredible Network.
Taking a more targeted and segmented approach…
One of my big projects is to deliver a new Membership Excellence 2019 Conference in May 2019 – a new venue (Novotel London West Hotel), a revised programme with new seminar tracks, new speakers and a new trade exhibition! To do that, I want to make sure that we create a programme that is fit for all segments of the Network. So whether you work for a chamber of commerce or a professional body; whether your members are individuals or organisations; whether you are private, public or third sector – the conference will deliver something of value to you. Whilst I cannot reveal our 2019 programme just yet, I sat down to look through the Digital Excellence 2018 programme recently and realised that we are already some way towards delivering content to different segments.
Membership always starts with strategy and this is certainly covered at Digital Excellence 2018 – marketing, engagement, recruitment, customer service, digital transformation, content, digital communications and eLearning and assessment are all areas covered in our case studies. We also look at some critical contexts: an ever larger millennial marketplace that sits alongside a baby boomer generation – how can we engage both?
The tools and the tech to make strategies come to life…
What you will certainly find at Digital Excellence 2018 are the tools and technologies that enable those strategies to come to life: websites, CRM systems, mobile apps, social media, video content, artificial intelligence, virtual reality, chatbots, email, search engine optimisation/analytics and online communities – we've got these covered in real-life practical examples led by membership organisations who are willing to share their experiences.
Content relevant to membership bodies of all shapes and sizes…
Our sessions are predominantly delivered by membership organisations that have individuals as members, but we also have some sessions delivered by bodies that have organisational members such as: Chartered Institute of Personnel and Development (CIPD), Chartered Institute of Procurement and Supply (CIPS), Federation of Small Businesses (FSB), Chartered Institution of Highways and Transportation (CIHT), Chartered Institute of Public Relations (CIPR). The principles delivered in our sessions can usually be applied to both individual and organisational members so you won't miss out on best practise.
You may also think that we only ask professional bodies to speak – not so! We have great sessions planned by: the Caravan and Motorhome Club, Coeliac UK, MENSA and the European Association for Cancer Research.
Think beyond your membership body type…
Whilst it is important to learn about the other membership organisations and associations in your 'segment' don't forget that best practice stretches across segments. What are the private member's clubs doing with regard to customer service? Why are there so many subscription model businesses entering the market? How are museums using membership on the journey to increase donations and visitor fundraising? Why not try a session that doesn't seem to fit your segment? You might learn something that can be applied to your organisation that no one has ever thought of before.
Here are some key recommendations for sessions from me – you won't want to miss these!
Claire Morton from CIMA – The Robots Are Coming: will they be replacing your members?
A fascinating horizon scan of how the future of jobs is changing.
Lee Taylor from the Caravan and Motorhome Club – How to win the Baby Boomer in the age of change.
Don't think digital = youth, baby boomers are all over Facebook.
Matt Day from Liquid Productions – VR & Video: The Future of Content Delivery? Here's What's Next…
How video and virtual reality could provide incredible member engagement.
Check out the DIGX18 programme here
Don't forget we have a Group Booking Offer – Delegates can enjoy 3 places for the price of 2 (saving £265) or 1/3 off 4+ Places.
Get yourself a ticket here – what are you waiting for? See you there!